Ocean freight, sometimes referred to as "sea freight" is the movement of goods internationally by sea. This is the most popular option for shipping goods internationally. In fact, about 90% of goods are transported by sea.
Whether you are new to shipping or you do it all the time, some business owners realize they need to review shipping options every now and then. If you're currently debating if ocean shipping makes sense for you, we're here to help.
What is Ocean Freight?
Ocean freight is the method of transporting goods overseas. It's an important part of cross-border trade that lets people move massive amounts of goods between countries.
There are several shipping options available depending on the kind of goods you have. One of the most popular is container shipping. With this option, goods are shipped using containers with standard sizes of 20 to 40 feet.
Types of Ocean Freight
Container shipping is one of the most popular options for ocean freight. This is mostly due to its relative safety and ease of handling. Containers can be moved very easily without disturbing the goods being shipped but they are only a good option for certain kinds of goods, such as dry or already packaged goods.
When it comes to container shipping, there are two types of shipping services available: LCL or FCL. So let's walk through the differences.
LCL: Less than container load. This means the goods being shipped are usually less than it takes to fill a container. Instead of having a container all to yourself you share the container with goods belonging to other people. The downside to this option is that your goods may be more vulnerable to mishandling or damage during the voyage.
FCL: Full container load which means you'll be shipping your goods via one or more containers that you use exclusively. Only your goods will be in the container, ensuring that your shipment will be undisturbed until you open the container by yourself. This option makes the most sense when you have goods that can fill a container or that nearly fill it up.
How does it work?
When shipping, it's necessary to have trusted eyes and hands that can help collect your goods from the seller, arrange shipping and place your goods aboard the ship. Ramsay Logistics can help with this.
The shipping contract is also an important part of the process you should know about. There are standard international shipping terms that govern ocean freight contracts. These are called "Incoterms", short for international commercial terms.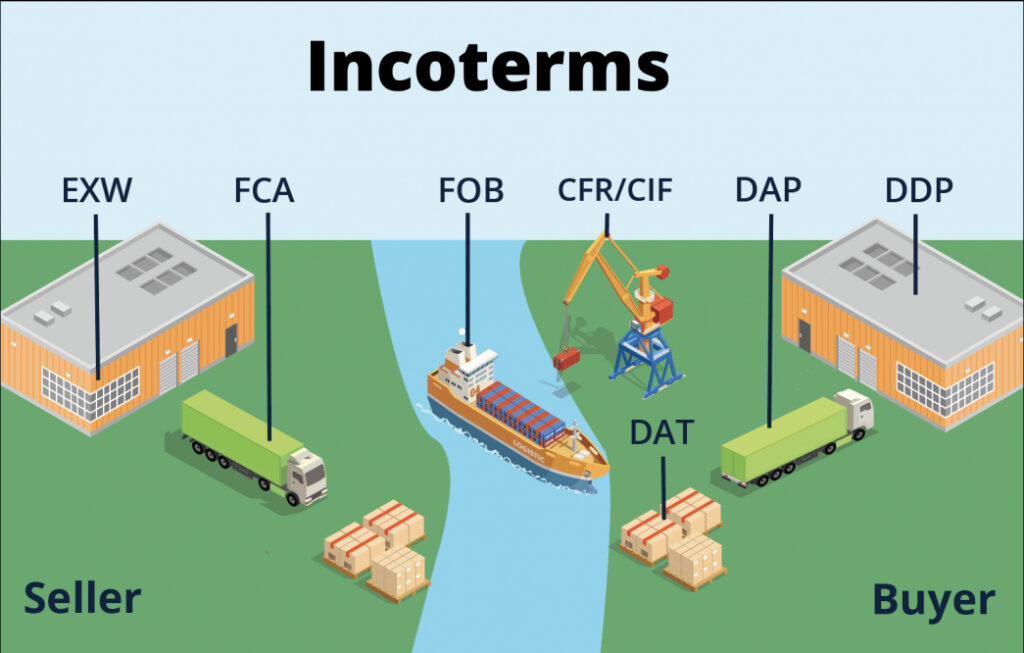 It defines how far along the process will the seller be held responsible for the goods, and at what point will the buyer take over the liability for the shipment.
The most popular Incoterms to know are:
EXW (Ex Works): An EXW contract places the majority of responsibility on the buyer. The buyer picks up goods at the manufacturer's and is responsible for the transit of the goods to their final destination.
DDP (Delivered Duty Paid): With DDP, the seller takes the maximum obligations and buyers take minimum obligations. The terms dictate that the seller will be responsible for the costs of shipping, insuring the goods and inland transportation.
How much does Ocean Freight Cost?
Ocean freight rates are determined based on a number of factors and are not static. Depending on a number of factors, the price may go significantly higher, or may fall even lower due to fuel costs, exchange rates, supply and demand, and so much more. This is why it's very important to work with a trusted provider such as Ramsary Customs and Logistics.
Pros of Ocean Freight
Higher shipping capacity: Sea freight is perfect for bulky shipments. Other shipping options are only viable for lighter products that are not being shipped in bulk.
Cheaper costs: Overall, ocean freight is much cheaper than standard air freight.
Lower carbon footprint: Ocean freight produces lower emissions per unit than air freight.
Should I ship via Ocean Freight?
Ocean freight makes sense if you are shipping large or bulky goods, or when it is vital to reduce your shipping costs to save money. Ocean freight also works very well when you have a high volume of orders within the same period.
Keep in mind, you should leave more than enough time for the goods to arrive if you choose ocean freight. If you do not have flexible delivery dates, then you may be better off using air freight. Overall, ocean freight represents a great option for international shipping, because it can be a relatively cheaper option.
We're here to help you
Understanding ocean freight can be complicated, but it doesn't have to be.That's why we're here. Ramsay Customs and Logistics isn't your typical logistics business. As a new importer or a seasoned trade professional, we will make the process for you effortless, rewarding, and easy to understand.
Call us today to talk to an actual person who can walk you through the process and answer any questions you may have: 587-353-1069.